To help you clean this spring, we've put together a list of our favorite products to make your house shine.
Spring is a time of rebirth. The daffodils are in bloom, trees are regrowing leaves, and here in the South, pollen is coating everything that stands still long enough. That lovely yellow coating is a terrific reason to start spring cleaning your home, but it's not the only reason.
A thorough spring cleaning is good for the soul, and the heart and immune system too. It clears out allergens like dust and pet dander that may have accumulated over the winter, sanitizes surfaces like kitchen cabinets and refrigerators, and declutters our lives.
We don't have to beat our rugs outside to get the dirt out--we have any number of vacuum cleaners that can do that for us--but we do have a list of things that should be done each spring. To help you clean your abode, we've put together a list of our favorite products to make your house shine.
The Arena Media Brands, LLC and respective content providers may receive compensation for some links to products and services on this website.
Best Products for Cleaning Baseboards and Walls
You might mop and dust your floors on a regular basis, but we often leave the baseboards for another time, because they are hard to get to and difficult to clean. Dingy baseboards and walls can make your house look dirtier than it is, so we like to clean them thoroughly at least once a year.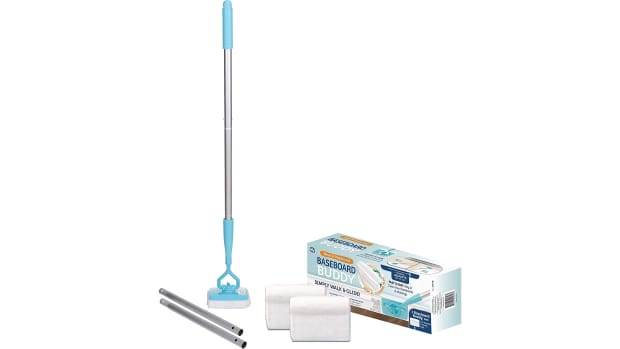 Anyone who has spent hours on their hands and knees cleaning baseboards knows that is maybe the worst job in spring cleaning. But since they're right at dirt level, baseboards can be one of the dirtiest parts of the home. The flexible cleaning head makes sure you get in all the nooks and crannies in even the fanciest of baseboards.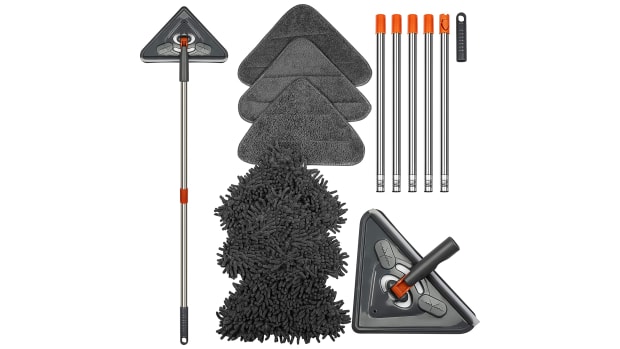 Wait, I have to clean my walls too? Yes, yes you do, and with this microfiber mop with the extension handles, it should be a breeze, even for those of shorter stature (like ourselves). It works on the floor and on windows as well, especially with the squeegee on the side of the mop head. Best of all, the mop heads are machine washable for easy clean up.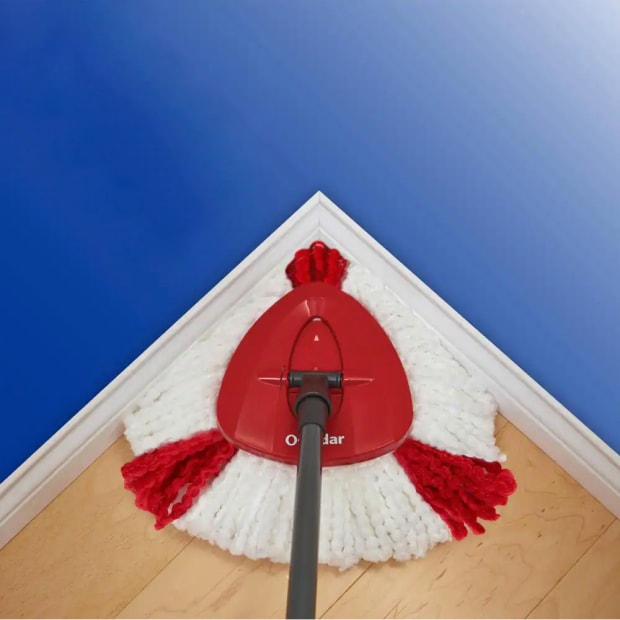 We follow a lot of cleaning influencers on Instagram, and they all, to a one, love this mop system from O-Cedar. You can see why, with the hands-free wringing system and the washable mop heads are tough on grime but gentle on your floors and walls.
Best Products for Washing Bed Linens, Shower Curtains, and Dog Beds
Spring is a great time to wash everything, not just your weekly laundry. We usually wash everything from shower curtains to window treatments to the covers of the dog beds at least every spring. Not only do they collect dirt, but also allergens like dust and dander, so washing them keeps the house healthy and happy.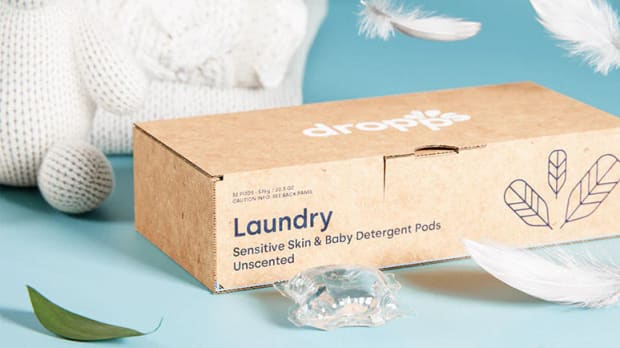 Hands down, our favorite laundry detergent, and we've tried many. Not only are they free of typical skin irritations, like perfume, they're powerful little detergent pods. Better yet, Dropps ships everything in cardboard packaging—no plastic—so it's 100% recyclable. Your clothes will be clean and your skin will thank you.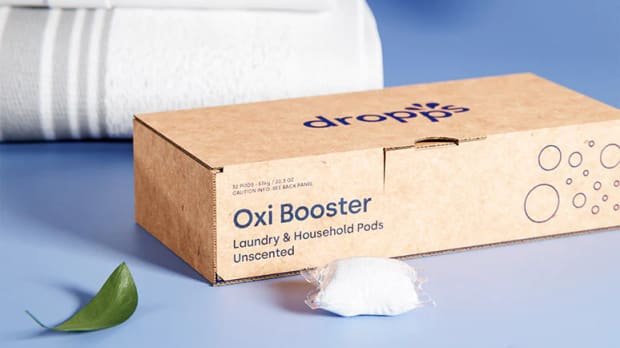 Our whites have never been whiter thanks to this oxi booster pod. Things that get dingy, but you don't think about washing, like shower curtains, will benefit from this color-safe oxygen based bleach alternative. We especially like using it with our comforter and blankets to get them extra clean.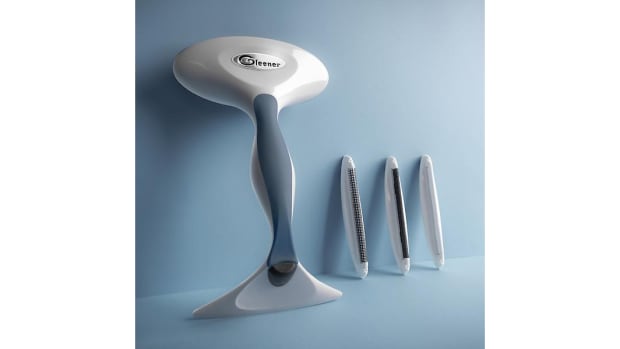 Before we pack away winter sweaters, of which we have many, we like to take all of the accumulated fuzz off before storing. This is one of the best we've ever used. The handle is ergonomically designed so it's easy to use over and over, and the multiple levels of edges are great for all kinds of sweaters. The larger end is an amazing lint/dog hair remover too.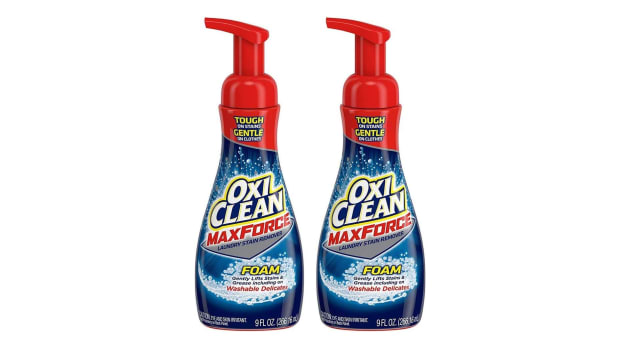 Sometimes laundry stains call for the big guns, and here they are. OxiClean has some pretty great stain removing tools, and we like to hit the bigger ones with this pre-treater formula before throwing in the wash. It's gentle enough to use on most of our fabrics, and has gotten out some stains we thought were lost causes.
Best Products for Cleaning the Office
Most of us are paper hoarders of some kind, hanging on to financial documents long after we need to. According to FINRA, we don't have to keep every sheet of paper we get. In fact, credit card receipts and statements should be kept only as long as you need to make returns or record your purchases, while tax records should be kept for at least seven years, and mortgage information almost indefinitely. Old pens, however, need to hit the trash as soon as they've run out of ink.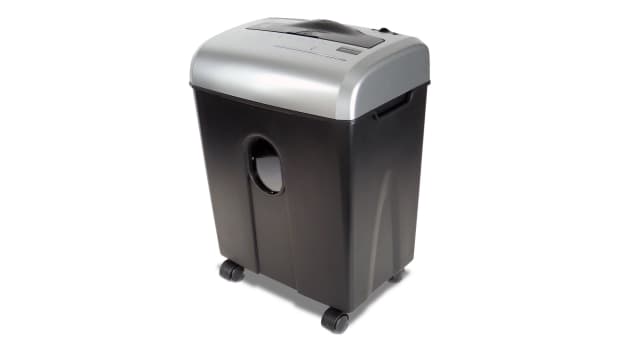 At 12 sheets thick, this shredder can handle most credit card statements, bank statements, and financial reports. It's also capable of shredding CDs and credit cards, but automatically powers off upon forced entry. The latter is designed to prevent theft, although with cross-cut technology it will be hard to put anything that passes through back together again.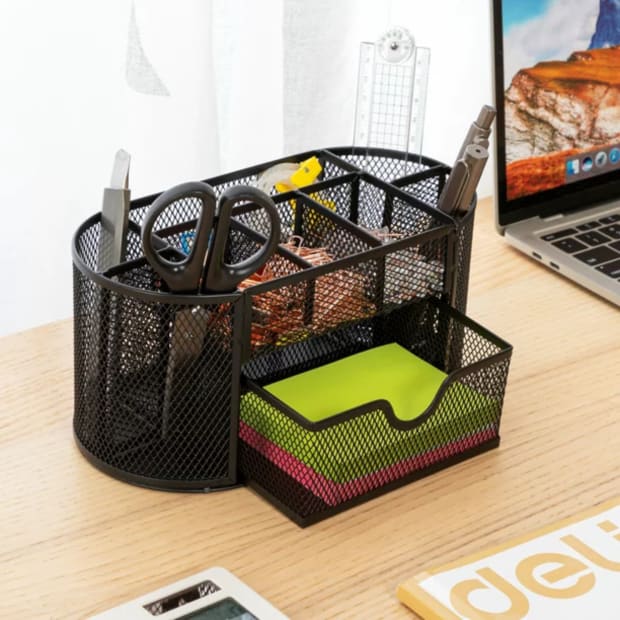 Once you've tossed all the dried out pens, organize the ones that do work in this eight compartment organizer that also holds your papers, cards, and whatever else you need to make your workday easier.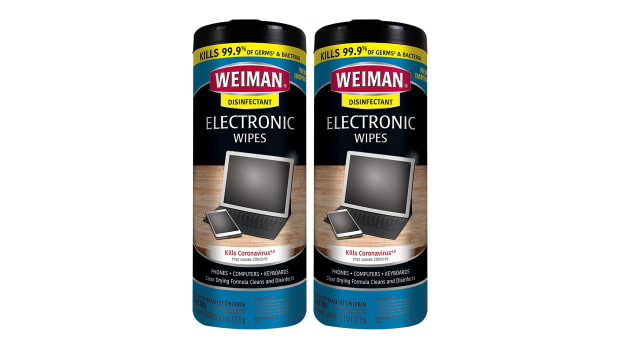 Cleaning electronics is a sometimes sticky situation. You need to be careful not to damage your screens and keyboards, but they're also pretty gross and prone to collecting dust. These easy to use wipes will kill 99.9% of germs as well as eliminate fingerprints and dust.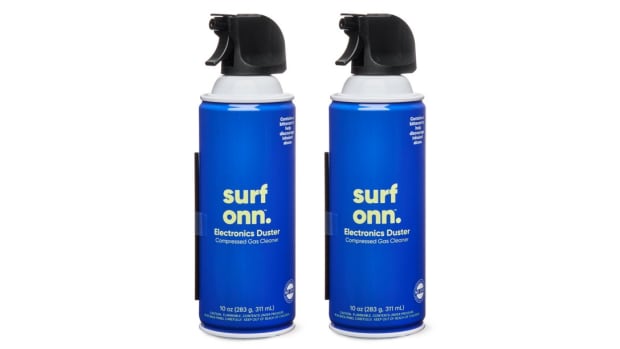 Easily our favorite product to use on our keyboard, the compressed gas blows out all of the dust and debris (like crumbs from your sandwich from that time you ate at your desk) with the push of a button.
Best Products for Deep Cleaning the Kitchen
Martha Stewart, among others, recommends an oven cleaning at least every quarter, but if you can't keep up with that schedule (or you don't use your oven much), spring is a great time to tackle that chore. It's also the perfect time to go through your pantry and refrigerator to toss any expired items, and to give the fridge a good sanitary scrub down.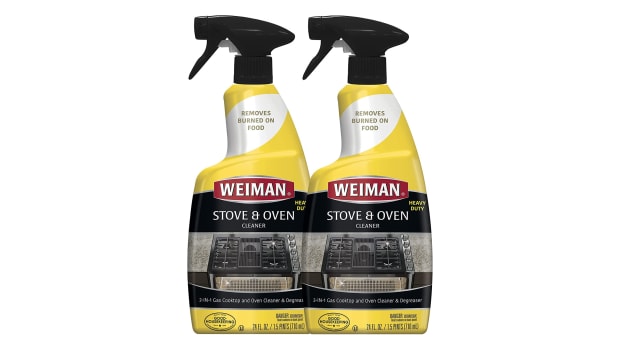 Our household is a big fan of Weiman products (especially their glass cooktop cleaner) so it follows that their oven cleaner is highly rated. We like the non-aerosol formula and the foam that really sticks to oven walls, cutting through baked-on grease and grime. Reviewers love that it doesn't have an odor or fumes.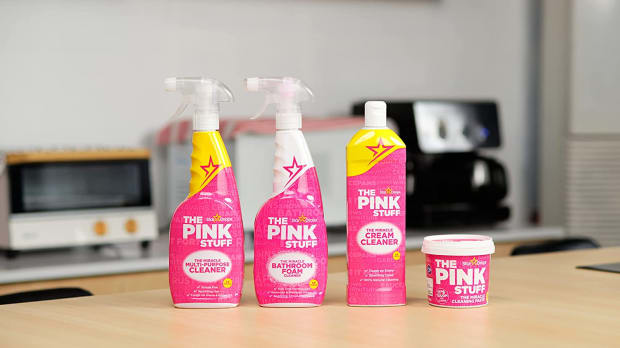 The Pink Stuff is another product that shows up often in "CleanTok" and Instagram, because it can clean just about anything. The paste is really good for oven cleaning, as it's mildly abrasive and cuts through cooking grease easily, and wipes clean. It's also cruelty-free, non-toxic, and better for the Earth than some other oven cleaners. With the bundle of products, you'll be able to clean the whole house top to bottom.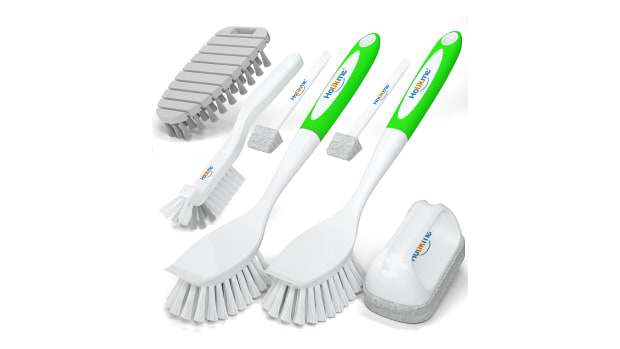 This simple set of kitchen brushes has everything you could need, including a brush for those pesky grout lines. The bendable brush wraps around your faucets and corners, while the scouring pad is great for countertops. Additionally, there are more regular kitchen brushes for your bottles and dishes. It's an inexpensive way to up your spring cleaning game.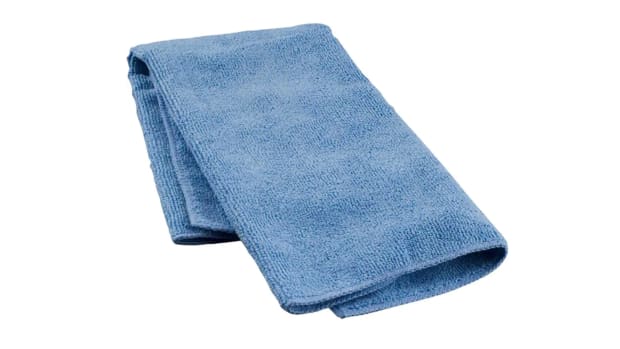 While we're not completely eco-friendly, we try to keep use of paper towels to a minimum. After all, paper towels and similar waste amounts to around 3.8 tons of waste each year. Enter microfiber towels like these, which are reusable, washable, lint-free, and great for use anywhere you'd grab a paper towel. We use them everywhere and with everything, including our stove top cleaner and kitchen counter sprays.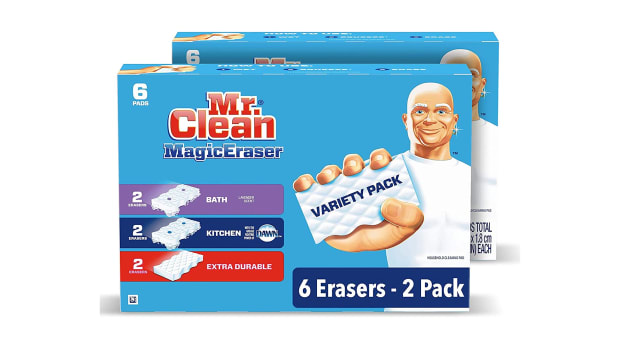 It's not an exaggeration that "magic" is in the name of these little beauties. We've yet to find anything they can't clean up. This six pack includes two made specifically for the bath, two for the kitchen with Dawn detergent inside, and two general extra durable erasers. They're very good at cleaning random dirt and stains off of walls, floors, counters, and bathtubs.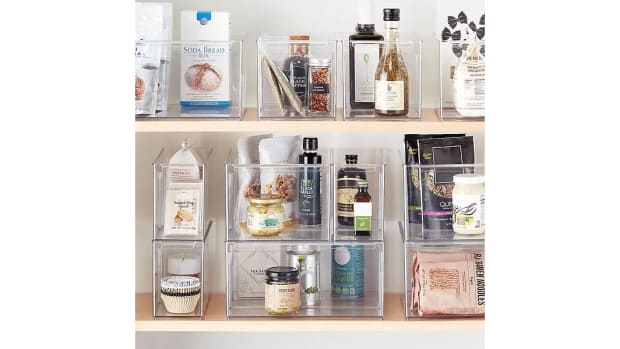 As you clean out the pantry and toss all of the old, expired food, why not put them back in an organized fashion? This set of six will easily separate your snacks from your other snacks, your pastas from your canned goods, and all will be right in your world. We love keeping things in bins, and these come with dividers to further separate your sweet from your savory snacks.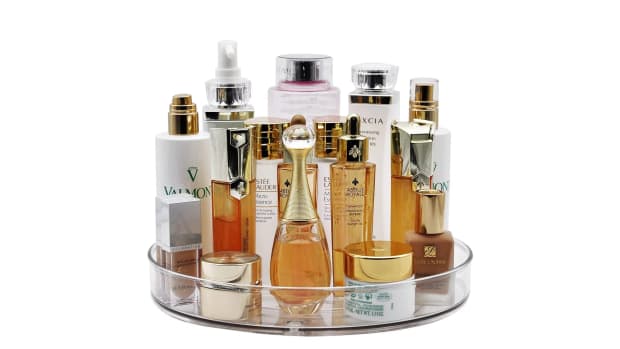 For oils, condiments, and spices, most organized people recommend a lazy susan, like this one from Walmart. The clear edge keeps everything in its place while allowing visibility of the labels, so you don't accidentally grab avocado oil instead of olive.
Best Products for Dusting
Yes, it's our least-favorite chore as well, but as allergy season gears up, ridding your home of dust and dander is imperative. Blinds and ceiling fans are often overlooked in a weekly cleaning routine, which is why it's important to tackle them now while you're on your spring cleaning roll.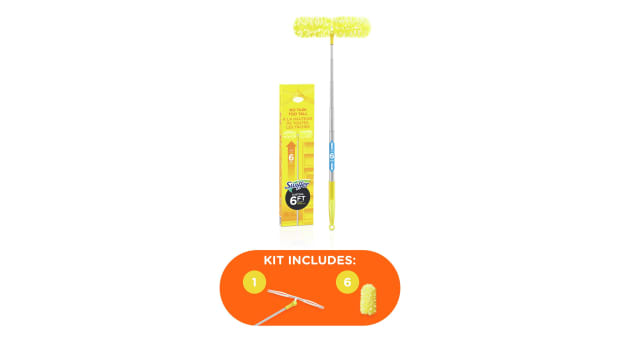 Our personal favorite dusters, we love the long reach of this Swiffer extendable duster set. It makes reaching our ceiling fans, tops of pictures, and high shelves easy and keeps the surfaces clean.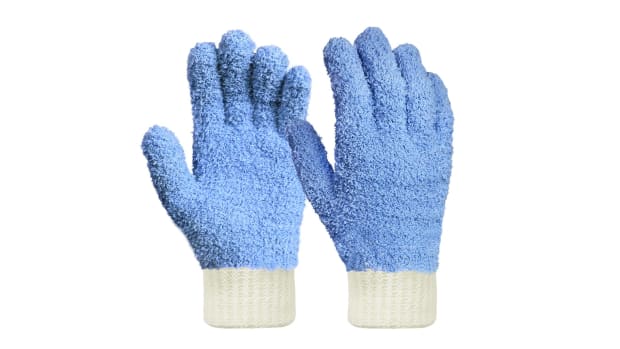 Sometimes the easiest way to clean things like blinds, car vents, and other small places is to just get in there with your own hands. With these dusting gloves, cleaning small spaces is easy. There's no need to add any cleaning products, keeping your environment safe from fumes or chemicals.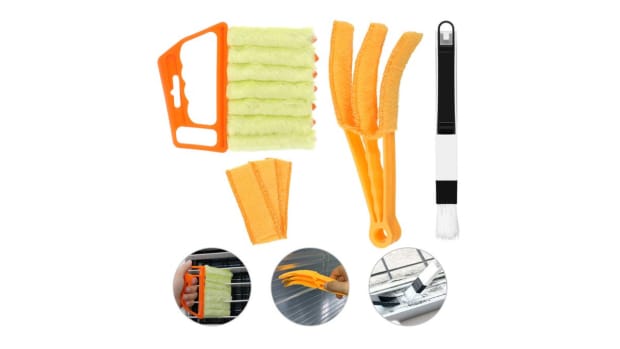 This is just fun to use. The two different tools are both designed to use to clean in between open blinds, removing dust and dander. This set also comes with a crevice brush to get all of the dirt out from the nooks and crannies in your window sills.
Where Does Spring Cleaning Come From?
Why has spring become the traditional time to clean the house? The answer is probably a combination of cultures, biology, and timing. In Iran, the celebration of the New Year is March 21, and is a time of renewal and regeneration called Nowruz. In the two weeks leading up to Nowruz, a ritual cleansing of the home called khane tekani ("shaking the house") takes place.
In the Jewish faith, the time of Passover is also a time to clean the house. The ritual cleaning that happens before Passover is to rid the house of chametz, or any product that is leavened--made from wheat, barley, oats, rye, or spelt, and is therefore forbidden during Passover.
Neither ritual is actually about cleaning and decluttering for spring, per se, and are part of deeper meanings within their cultures, but both happen to fall during springtime, so it's possible they could contribute to the Western idea of spring cleaning.
A more likely answer is biology and practicality. When the weather begins to warm, we not only begin to come out of semi-hibernation, the days become longer and the sun shines more. And for our ancestors, that meant the house doors and windows could be left open and things like rugs and mattresses could be cleaned outside.
Prices are accurate and items in stock at time of publishing.