A looming "mansion tax" has ramped up panic in L.A.'s luxury real estate market.
Over the next 24 hours, the tax burden will change significantly for some of L.A.'s wealthiest residents — a new law, which was passed by local voters last November and imposes a new "transfer tax" on the sale of homes worth more than $5 million, comes into effect on Saturday, April 1.
Collectively nicknamed the "mansion tax," the new requirement rises to 5.5% for homes worth more than $10 million. 
DON'T MISS: This City Is Overtaking New York, LA and London in Luxury Real Estate
Proponents of the tax successfully argued that the fee, which would not make a huge difference to owners who are still making a very large profit amid skyrocketing real estate growth in California over the last decade, could go toward helping solve the affordable housing crisis in the city.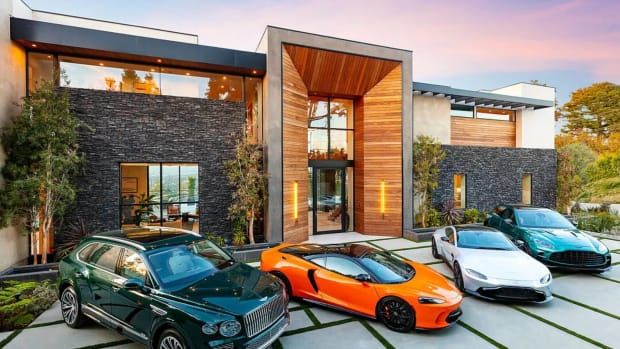 Would You Like An Aston Martin With That Mansion? Just Buy.
But even at the lowest level, the tax adds up to a non-insignificant $200,000 for a home sold for $5 million. This has, local agents report, led to an explosion of owners rushing to sell their mansions right before the change comes into effect.
A 9,500-square-foot Beverly Hills home listed for $16.5 million has been offering whoever pays the asking price a choice of an Aston Martin Vantage, Aston Martin DBX 707, McLaren GT or Bentley Bentayga EWB if only they buy it.
Such "perks" for both buyers and agents have been popping up right and left over the last month as sellers became more and more desperate. Tasked with a 12,130-square-foot Bel Air property listed for $27,995,000, Los Angeles brokers Josh Altman and Jade Mills offered a $1 million bonus to whoever of their agents is able to sell it before April 1.
Still other owners have been significantly slashing the price of their homes — in one case, a Bel Air home that was listed for $100 million in 2018 was put up by Nest Seekers International for just $59 million in March 2023.
'I'd Be Doing A Lot Better If This Tax Didn't Go Through'
"I'd be doing a lot better right now if this tax didn't go through," Altman, who stars on "Million Dollar Listing" and often represents celebrity clients, told Yahoo Finance. "I have seen more deals get done in the month of March than I've seen in my 20 years of being in some aspect of real estate."
To avoid paying $2 million in fees, the owner of another 50,000-square-foot estate in Brentwood has been willing to sell it for $38 million despite buying it in 2021 for $44 million. Tasked with selling it, Ikon Advisors real estate agent Dan Malka said that the price would be raised back up to at least $41 million if the property doesn't sell by April 1.
While the time to close a sale is quickly ticking away, local agents said that they still expect a large number of sales to close in the last hours of March 31. After that, prices are once again expected to rise even as the luxury market flounders somewhat due to both economic forces and the limited pool of eligible buyers.
"The tax is coming out at a complicated time with interest rates, inflation and bank issues," Aaron Kirman another luxury agent in the L.A. area, told CNBC. "It couldn't have been more of a perfect storm."