This Fykee Cordless Vacuum comes bundled with three cleaning types and can be converted into a compact dust-buster.
For many, keeping a tidy home or apartment is important. The challenge though might arise when it comes down to making that happen.
An excellent cleaning tool or two, like a vacuum, can make all the difference though. To help on your cleaning quest as we approach the season of doing just that, we've found a popular vacuum that is 21% off on Amazon  (AMZN) - Get Free Report.
The Arena Media Brands, LLC and respective content providers may receive compensation for some links to products and services on this website.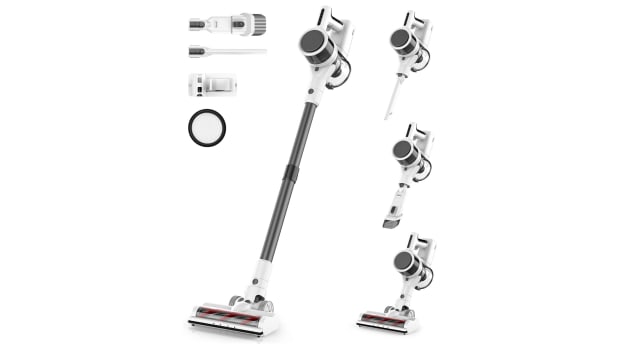 Meet the Fykee Cordless Vacuum Cleaner that is discounted to $149.99 and eligible for free, fast Prime shipping. It comes bundled with a few different brush heads for tackling all sorts of surfaces and features an adjustable tube. This way it can transform from a full-size to a more compact dust-buster.
It also boasts a 4.3-star rating on Amazon, with 81% of the 585 reviews left by customers at four or higher. That's a lot of love for any product on Amazon, but when you dive into the feature list a bit more on this vacuum cleaner, you'll understand why.
For one, the cordless nature of this vacuum ensures you won't get tangled or have to switch outlets frequently. In fact, the rechargeable 2,200mAh battery can last for up to 35-minutes depending on the mode.
The Fykee is designed to clean up carpets and hard floors with one of three included brush heads. You get a traditional roller, a long gap suction tool, and a 2-in-1 brush in the box. Powering the cleaning is an the 80,000rpm brushless motor that can tackle most dirt and debris swiftly. Everything passes through a five-stage filtration system to leave the room smelling fresher too.
Best of all, though, Fykee promises a quiet operation that falls under 75-decibels. This way if you're cleaning during the day you won't disturb housemates or neighbors. All of this functionality is packed into a highly portable cordless stick vacuum that can easily be tucked away when not in use.
For 21% off the regular price, this is an excellent deal on what could be an essential cleaning too. So head on over to Amazon right now so you can grab a Fykee Cordless Vacuum Cleaner and make cleaning up the house an easier proposition.
Prices are accurate and items are in stock at the time of publishing.