Wiley College receives $50,000 gift for 'social good' initiatives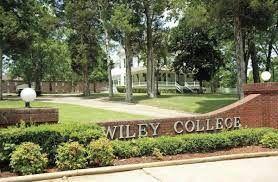 Wiley College recently received a $50,000 gift to support "social good" initiatives that encourage student involvement in school, community and statewide projects.
The financial gift from donor Julie de Sherbinin of Maine will benefit the work of the Marshall-based HBCU's (Historically Black Colleges and Universities) Heman Sweatt Center for Social Good and Leadership.
The center was founded in 2019 by Wiley College President Herman Felton Jr. as an effort to encourage student involvement in social betterment projects on the college, community and state levels, university officials said in a statement.
Felton launched the center with the plan to transform the culture of the campus by using his understanding of the significant impact leadership has on the morale and prosperity of his faculty and staff, university officials said in a statement. The nine-week long training process implemented through the center was developed with the intention to create leadership principles within its participants.
"I am genuinely appreciative of this gift, we have been working around the issue of eradicating poverty in my community," Wiley College senior Ijaelle Manuel said.
The center specifically provides students with full academic scholarships in an effort to support the social good ideas and endeavors and engages the campus community in realizing social good goals through training, campus-wide discussions, service learning and projects.
Julie de Sherbinin believes the unequal distribution of wealth in the United States can be partially rectified if well-resourced citizens share unearned inheritance with those who have historically been largely excluded from the inter-generational transfer of wealth, according to a statement from the university.
She was moved by Wiley College's focus on social good, particularly during the campus' recent Sesquicentennial Celebration, the statement said.
"She has significantly contributed to increasing diversity, inclusion, and equity through her own personal work and career. The gift is an extension of that commitment," Wiley College Chief Operating Officer said in a statement. "I have known Julie for over 10 years and have been impressed with her allyship. Working alongside her has proven impactful. I was extremely excited to learn that she wanted to extend her allyship through a gift to Wiley College. True allyship isn't simply saying that you believe in diversity, but demonstrating through continuous reflection on one's power and privilege and generating action to increase a more just and equitable society."
This year, the Heman Sweatt Center will honor the university's 150th celebration through the program theme, "Past/Present Perspectives."
The donation will provide start-up funds for program participants and create an opportunity for an "activist in residence" to be welcomed on campus for a semester.
"We are really excited about this gift and the ways it will help to build a foundation for the work of students," Wiley College's Assistant Professor of Criminal Justice/ Co-Executive Director of the Heman Sweatt Center Keyona White said. "The Heman Sweatt Scholars have begun designing their projects, knowing they have a donor who believes in their work. They are truly inspired by this gift."